You are doing a great job.
How do we know this? Because if you are reading a tiny house blog, you are putting in the effort to find the tools for your next chapter.
Does your next chapter involve a tiny house?
Well, that part is up to you, but we're glad you're here! On this blog, we'll be telling you everything we've learned about the tiny home lifestyle over the years and sharing all the ways it has changed the game for our clients.
We will also be using this tiny home blog to offer you support, help you make decisions, walk you through the next steps of your tiny home journey, and (hopefully!) inspire you to say yes to taking your life to the limit.
Any day can be the day your new chapter begins.
We started building tiny homes not just to solve a problem in our community, but to give you the tools to build a future that's better than ever.
We chose to do this with tiny homes because tiny homes are incredible tools that empower people to take life into their own hands. They have been known to financially stabilize families, simplify day-to-day living, cost less money (than traditional homes), and create more time.
We know the beginning of a tiny home journey can feel daunting; (After all, the industry is still relatively new, and sorting through all the information online can be overwhelming!), but let us tell you something reassuring that we hope will bring you peace:
As tiny home builders, we've seen amazing transformations unfold time and time again. There is something truly awe-inspiring about seeing someone stand up and claim the life they envisioned.
That's why we wanted to dedicate our opening post to validating that voice in the back of your head. If you have a tiny home journey ahead of you, we want you to know that we will be there to support you every step of the way.
And as you read our letter, remember this: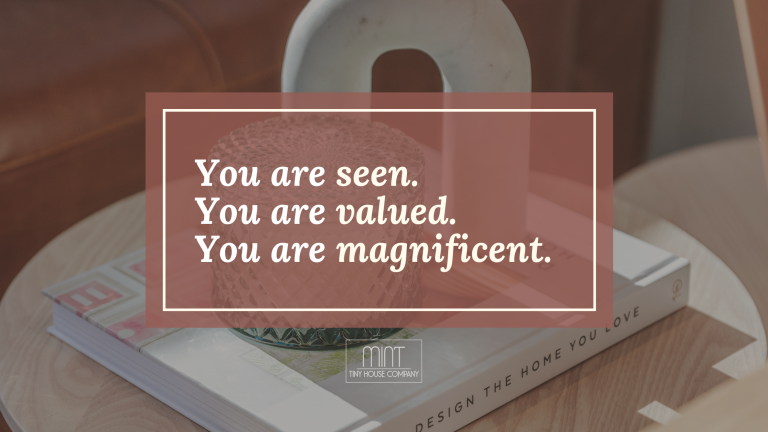 And you are one step closer to realizing your tiny house dreams.
AN OPEN LETTER TO ANYONE CONSIDERING A TINY HOUSE
Dear Reader,
We know that the last few years have been hard. And maybe for you, the past has been an even longer road.
Whatever the specifics of your personal story, it seems we've reached a collective limit- it's time for the world to change.
Here at Mint Tiny House Company, we've been fortunate enough to watch people from all walks of life take a stand and go after the life they desire. And it's been an honor to build tiny houses to go with their dreams.
We've learned that the sky's the limit when it comes to why people choose to buy a tiny house. Maybe you, like many of our clients, are looking for a place to retire. Or maybe you are seeking peace in a world full of chaos. Maybe you want to become a homeowner or finally design a life lived on your terms. Whatever your reason, just know that it's valid.
Not only is your reason valid, but your desire to buy a tiny house could lead to the biggest transformation of your life. (And no, that isn't an exaggeration.)
As tiny home builders, we've seen single moms become first-time homeowners and women turn retirement setbacks into retirement dreams. We've seen families restructure their lives to spend more time together and witnessed couples forego the narrative to build lives of their choosing.
But while a tiny home journey can be transformative, you still may experience fear or doubt along the way. Some of you may even have your tiny home dreams dismissed by family and friends.
We hope it never happens, but if it does, please know that we will be in your corner. Sometimes people just have to see to believe, so stay strong. After all, a tiny home journey is a process of trusting yourself.
And speaking of trusting yourself, you know that voice? The one that led you to this tiny house blog and told you that maybe a tiny home is the answer?
That voice is asking you to trust your instincts. That is your inner knowing rising up and calling you to action. You don't have to know how it will all come together (that's our job); you just need to take that voice seriously and continue asking questions.
And guess what? By reading this blog, you are doing just that.
As tiny home builders with nearly a decade of experience, we could give you a million reasons why a tiny home is a great idea, but ultimately, it's your 'why' that matters.
So why do you want to buy a tiny home?
What keeps you saving tiny houses to your Pinterest board late at night or envisioning your future self indulging in a hot cup of chai in your cozy loft bedroom?
Do you dream of a retirement that allows you to enjoy simple living? Or of giving yourself the gift of locational freedom? This is the story of your life, and what happens next is up to you.
But we have just one more question:
What would happen if you said yes to a tiny house?
Mint Tiny House Company is rooting for you. May this be your best chapter yet.